If you are like me and can't stand it when Office Applications change the casing of Pronouns such as "VMware" to "Vmware" for example, there is a quick fix you can do. Most may already be aware, but this has hassled me one too many times today, and I therefore sought out the option to prevent it from happening. I was using Excel 2010, however similiar steps should apply to all Office Applications.
Go to the File -> Help -> Options -> Proofing menu.
Click "AutoCorrect Options" -> make sure the tickbox for "Correct two INitial CApitals" is either off, or alternatively and the better option, click "Exceptions".
Add an entry called "VMware" under the "INital CAps" tab.
Apply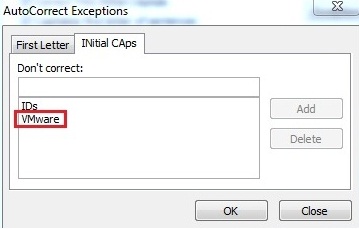 For a fun list of VMware spelling derivatives be sure to check out Darren Woollard's "VMware, it's all in the name" blog post.