HP N54L Microserver now listed on HP website
I am a big fan of HP's Microserver range. They make for excellent home lab hardware, and I currently have 2 x N40L models running a small vSphere 5.1 cluster for testing, blogging and study purposes.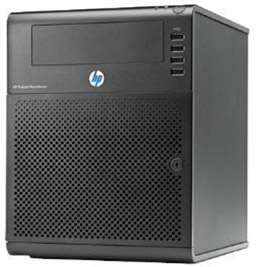 It looks like HP have now officially listed their new Microserver range on their website – the N54L. The most notable change seems to be a much beefier CPU. The original N36Ls had a 1.3GHz AMD processor, with a slight improvement to 1.5GHz on the N40Ls. The CPU has always been the weak point for me, but has been enough for me to get by on. So the N54L models are now apparently packing 2.2GHz AMD Athlon NEO processors. This is a fairly big clock speed improvement over the N40L range and should make for some good improvements for those using these as bare metal hypervisor use.
The two models being listed at the moment are:
HP ProLiant G7 N54L 1P 2GB-U Non-hot Plug SATA 250GB 150W PS MicroServer
HP ProLiant G7 N54L 1P 4GB-U 150W PS MicroServer